Before constructing a dock or pathway, you may weigh a few options: traditional wood that has a classic feel but could rot and split? Composite boards that require less upkeep than traditional wood but are still susceptible to water damage and warping? Or abandon wood completely and opt for high-performing Millboard that may be more costly?
In this article, we'll take a look at three common options for dock and pathway construction and help you make an informed decision about what material will work best for your project. Pathways and docks often encounter wet or uneven land and can require more curves and angled features. With that in mind, let's go through some different options for dock and pathway materials beyond typical decking considerations.
Traditional wood
Wood decking has a classic feel and look. Aesthetically, it works well with rustic-inspired designs and has an inviting, weathered appearance. Wood and treated timber can be a less expensive option upfront when compared to other composite materials, however they may require additional expense and upkeep over the life of the material.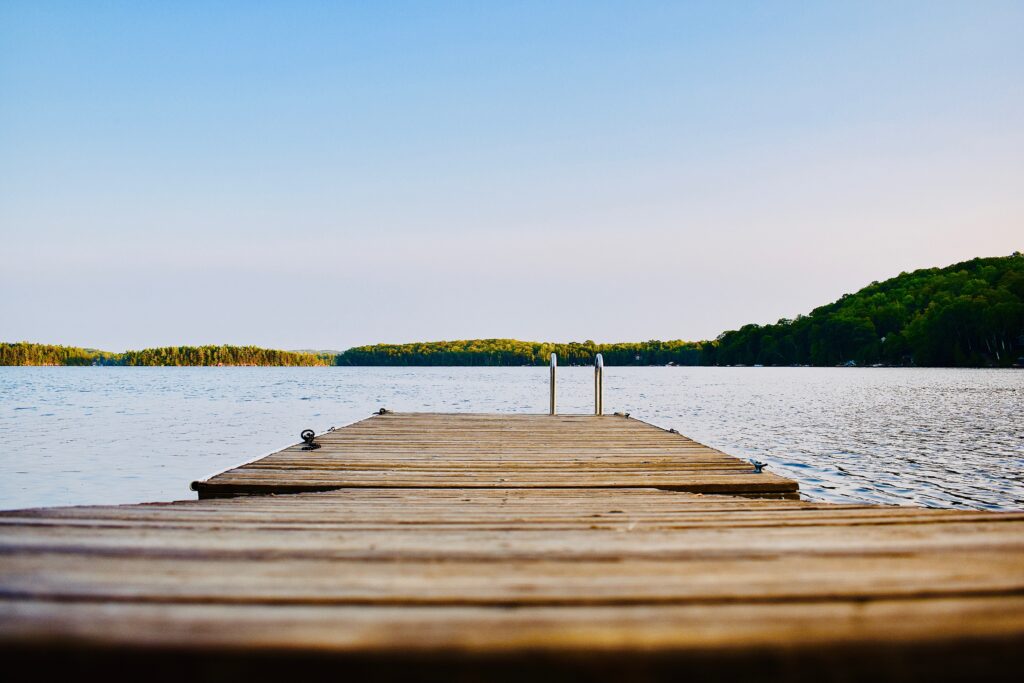 Wood also has some material drawbacks, especially when building in uneven or wet spaces. For one, wood docks and pathways are more susceptible to rotting and algae growth. Wood is also prone to splitting and splintering, making it potentially less safe for pathways or docks where people might be walking around barefoot or lying down. 
Frequent sealing, cleaning, and treatment can reduce some of these issues and make a wood dock or pathway more weather- and water-resistant. A strong, wood-free subframe can also help fend off damage. However, extensive maintenance needs are one of the reasons wood docks tend to degrade over time. You will want to consider whether the low cost is worth the future upkeep.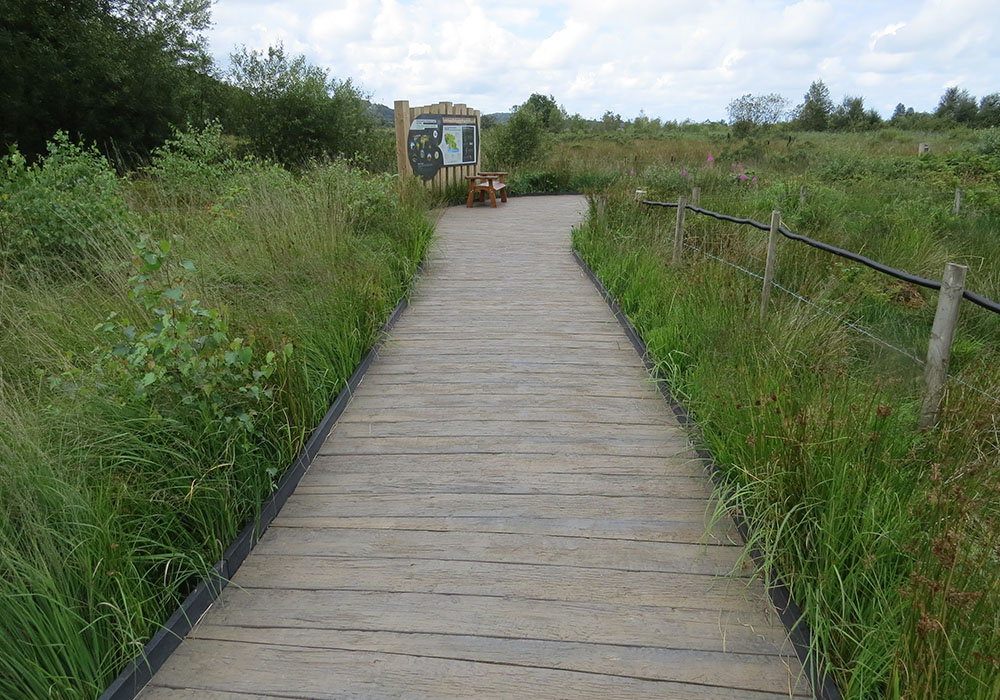 Composite boards
Composite boards contain a mix of wood and manmade materials. Because composite decking contains plastic, it tends to last longer with the same amount of upkeep (or much less) than wood. Many composites offer a range of colors, and some do look quite realistic. The relatively low maintenance is a main draw.
On the other hand, composite decking tends to be more expensive than wood, and its wood content still makes it susceptible to water and weather damage. It's also more vulnerable to warping and shifting over time. In terms of safety, composite boards are unlikely to splinter like wood, but they may be more slippery and can get hot under the sun.
Additionally, composite decking's plastic content can make it harder to manipulate to fit your designs. It can be difficult to incorporate curves or to build a composite wood pathway around irregular natural features. This can cause installation to be more intensive, depending on your design.
Millboard
One of the newer options on the market for outdoor building, Millboard's high-quality wood-free boards, escape a lot of the problems associated with both wood and composite alternatives. It may be a relatively high-cost option compared to wood, but Millboard's polymer boards, sealed in a unique Lastane coating, require so little maintenance that they are an attractive option long-term.
Products like Millboard combine the strength of recycled plastic with the natural look of real wood. Molded from real oak, Millboard's realistic grain finishes have that authentic look that makes wood docks and pathways visually appealing in natural environments. The UV-resistant, non-porous surface reduces scratches, stains, and fading, leaving the boards looking great after years of use.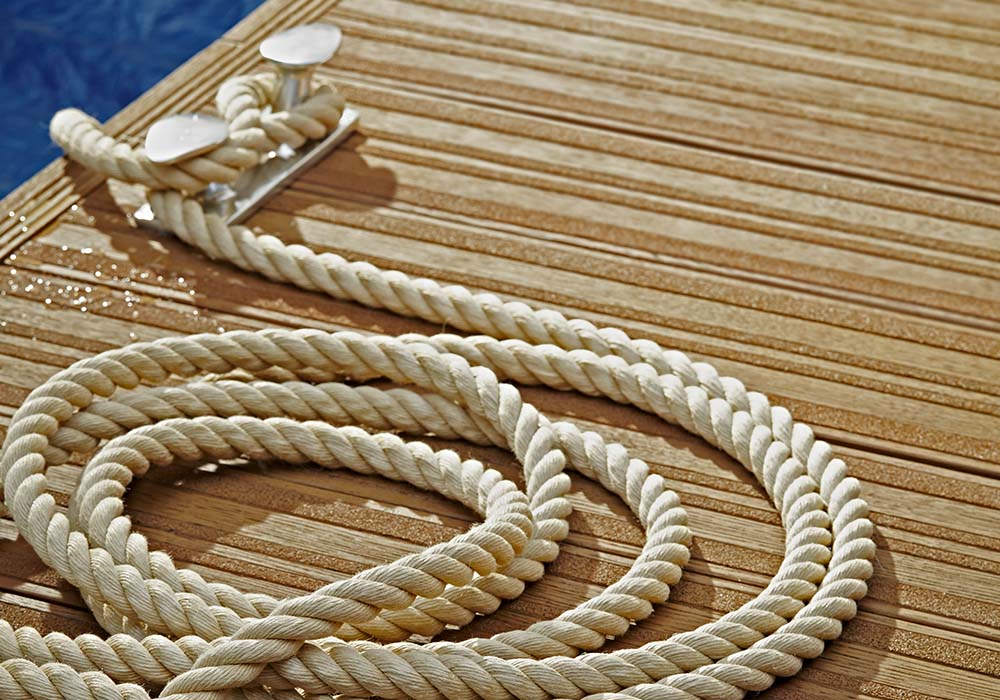 Because Millboard is maintenance free, it won't require harmful cleaners, sealants, and treatments that could harm water sources or surrounding natural environments near your dock or pathway. It also doesn't rot, split, or warp over time, meaning the boards are unlikely to need replacement. All it really needs is an occasional surface cleaning and touch-up.Millboard docks and pathways won't splinter, so they're safe for bare feet; and the textured surface of the boards are designed to be slip-resistant. Millboard even offers a unique line of textured boards, LastaGrip, designed for extra safety.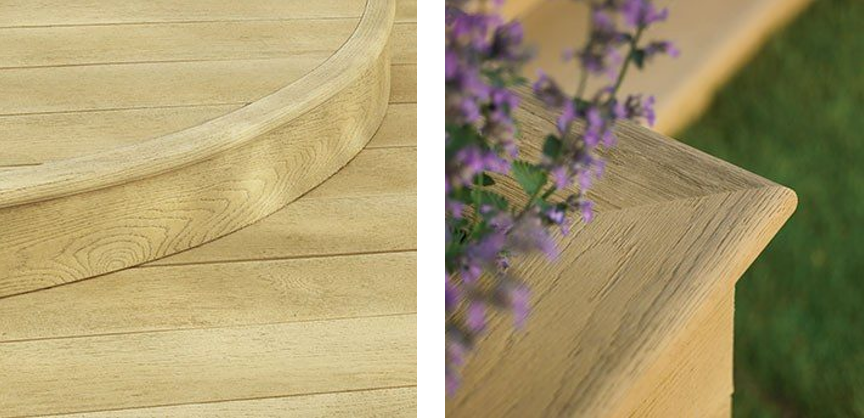 Millboard also offers its own subframes, which are flexible, easy to install, and waterproof. And with a wide variety of edging and fascia, Millboard is actually quite flexible in terms of design. A curved pathway on irregular land with raised edges, lighting fixtures, and steps is completely doable with Millboard.
If you're able to afford a product with a higher upfront cost, Millboard is worth the investment, especially for docks and pathways, which can have complicated architecture needs and are often exposed to natural elements that tend to wear down wood products. At Outlive, we believe in the high performance and visual appeal of Millboard and believe it's an excellent option for outdoor building. You can see some docks and pathways we've built with Millboard, and if you want to learn more, you can get in touch with us here!