Looking for a way to relax and unwind without having to leave your home? Are you short on space, and too far from nature? Consider transforming your rooftop into a serene and inviting retreat with a cozy rooftop deck! It's one of the best ways to enjoy the beauty of the outdoors and at the same time the comfort of your own space.  
With a rooftop deck, you get the feeling of being in your own private sanctuary, a place to enjoy breathtaking views of your surroundings. You can make your rooftop even more inviting by adding plush outdoor furniture, soft lighting, and decor that reflects your personal style.  
Let's take a look at these creative themes for inspiration: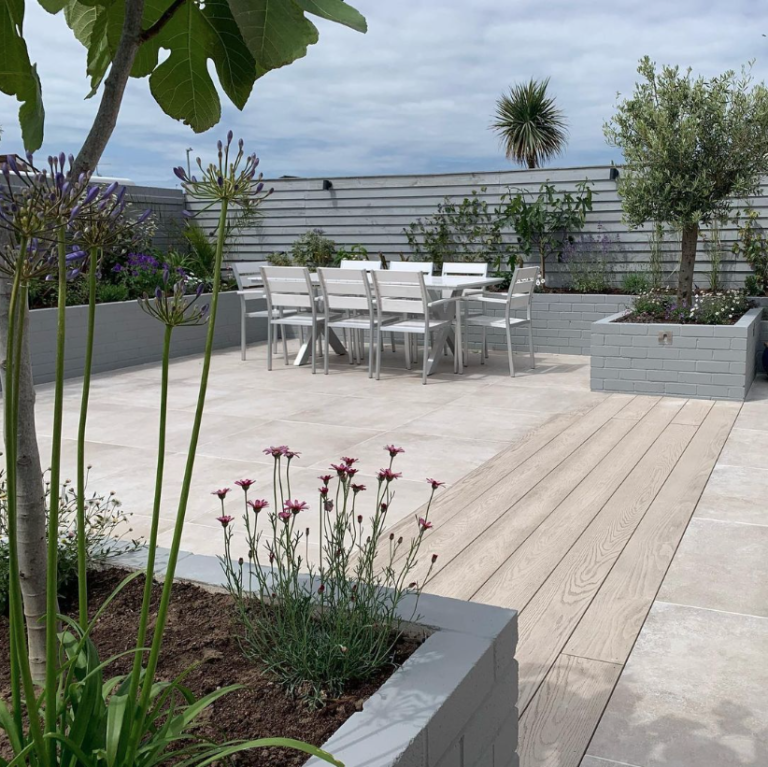 Sky-high harvest with a rooftop garden.
If you want to create a rooftop garden of your own, start by assessing the amount of sunlight and wind exposure on your rooftop, as these factors can affect which plants will thrive. Then, install planter boxes or raised garden beds and get planting!  Millboard boards are great for planters and will ensure the longevity of your green oasis. Plus, they won't warp or rot, even in damp conditions.  
Incorporate a variety of plants, such as herbs, vegetables, and flowers, to grow a diverse and vibrant garden. You can also add trellises or plant vertical gardens to maximize your space and create visual interest.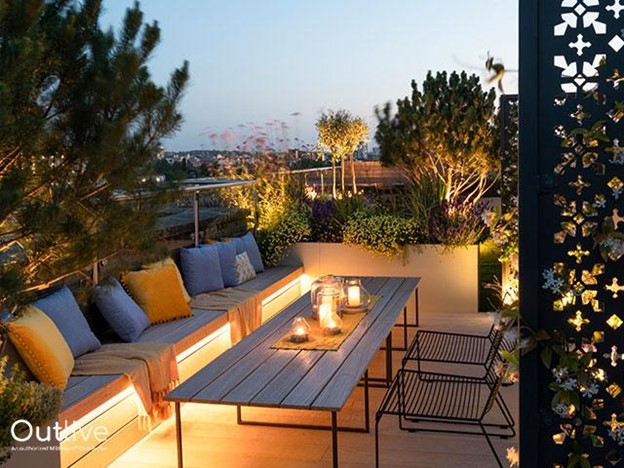 Reach for the stars with a starry night rooftop deck.
Stargazers and budding astronomers alike can marvel at the heavens from a rooftop deck.
You can enhance the celestial atmosphere with string lights – or for an even more magical experience, a telescope is the perfect addition for those wanting a closer look at the constellations.
The romantics among us might add some comfortable elements like a daybed or lounge chairs, throws and cushions: a cozy nest for a lovely evening under the stars.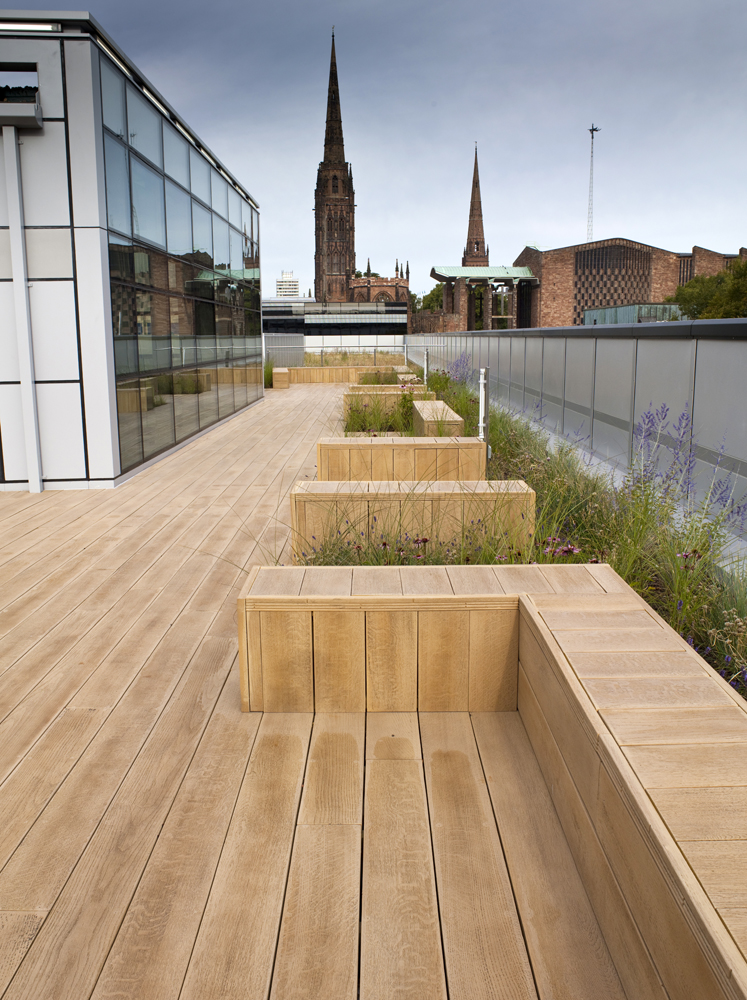 Namaste up top with a zen rooftop deck.
For those seeking a serene and restful outdoor space, a Zen rooftop deck is the perfect choice.
Start by incorporating natural looking materials, such as bamboo – or something more resistant. Millboard is available in a range of natural colors and textures that can emulate the ambiance of a traditional Zen garden to create a peaceful, calming atmosphere… and it won't fade in the sun and wind!
Consider installing a water feature, such as a small fountain or a reflecting pool, and relax to the soothing sound of trickling water in your outdoor space. As well as greenery, such as bonsai trees or potted plants, install a meditative element like a Japanese-style rock or sand garden. Finally, add comfortable seating, such as a daybed or a chaise lounge – sink in, and enjoy your new tranquil rooftop oasis.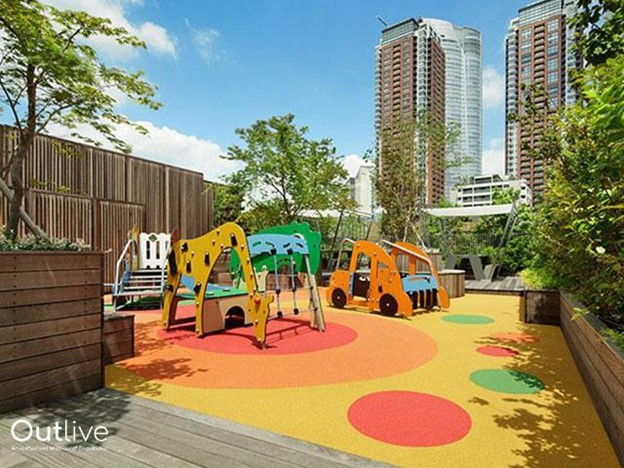 Kid-approved fun with a rooftop playground.
Take playtime to new heights with a rooftop playground!
Incorporate outdoor play equipment like a swing set, slide, or climbing wall to keep your little ones entertained for hours. Sand pits or water tables are also a great way to keep kids engaged and having fun. Just make sure the area is secure!
Safety is paramount when designing a play space for children. Millboard decking provides a durable, splinter-free, slip-resistant surface that's safe for kids to play on. Plus, it's easy-to-clean – ideal for those inevitable spills and messes.
A bench or a hammock will allow you to supervise your kids as they play, while still enjoying the sunshine and fresh air. You can transform your rooftop into a place where the imagination runs wild and precious memories are made.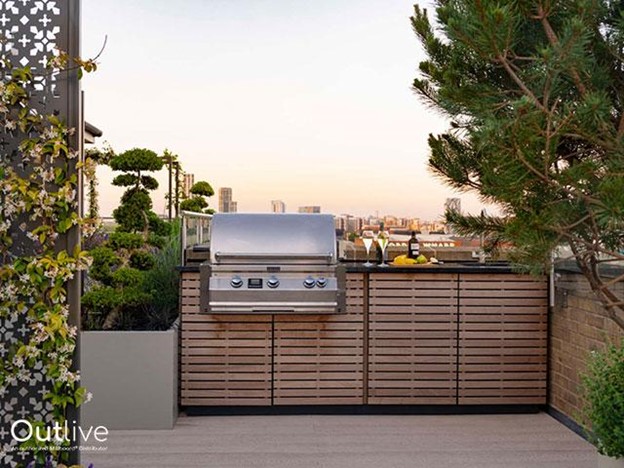 Get rowdy with your very own rooftop bar!
A rooftop bar is an excellent choice for those who love to entertain.
Start by installing a bar area with a mini fridge, a sink, and plenty of counter space for mixing drinks. Add some bar stools or chairs, and to create a festive atmosphere, string lights or perhaps some tiki torches!
A quality sound system is a must so you can play your favorite music and really up the atmosphere. You might even consider adding a theme (the 80's, anyone?) to make your rooftop bar even more inviting!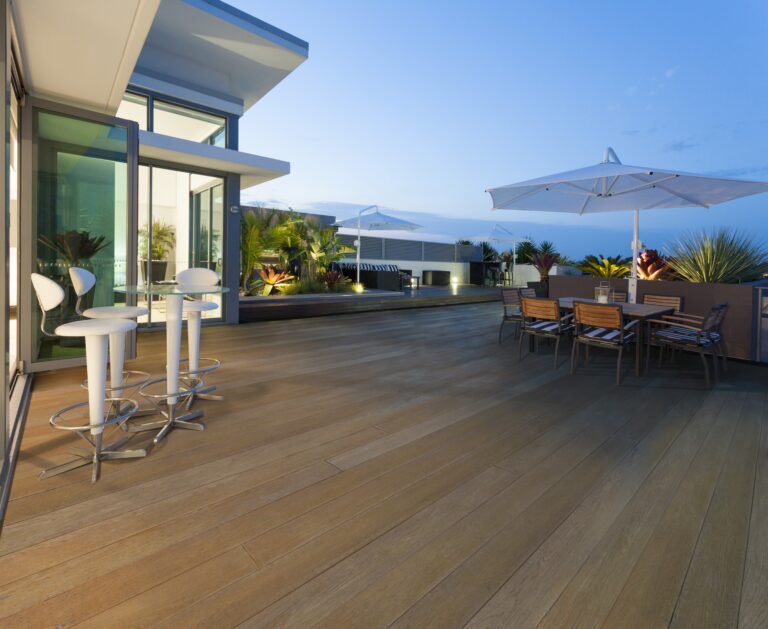 We hope you've been inspired by these creative and functional ideas for rooftop decks.
With the right design, your rooftop can become a space that nourishes your soul and provides a much-needed retreat from the stresses of daily life.
If you'd like to make your rooftop safe and beautiful for years to come, it's essential to invest in quality materials. Check out our range of versatile Millboard decking and siding solutions today or chat with one of our experts about making your project a stunning reality.