Planning a dream deck for your home? The key lies in meticulous design and the right materials. We've compiled this overview of deck design principles to help you get started. Designing a deck is both an art and a science, and sometimes it's hard to find that balance. To ensure the right blend of aesthetics and safety, it's essential to follow certain design rules.
This guide will touch on some of the more technical, prescriptive aspects of compliance to building codes in deck construction, but its main goal is to give you an outline of design principles to follow in your planning process.
So, before diving into your next decking project, familiarize yourself with these deck design rules to achieve the best results.
In this article:
Basics of Deck Design

Key Deck Design Rules

Examples of Great Deck Design
The Basics of Deck Design
Every successful deck starts with a solid plan. This isn't just about aesthetics; it's about ensuring your space meets your unique needs.
Deck Building Terminology: Parts of a Deck
Before you begin deck planning, it's a good idea to get familiar with the different parts of a deck.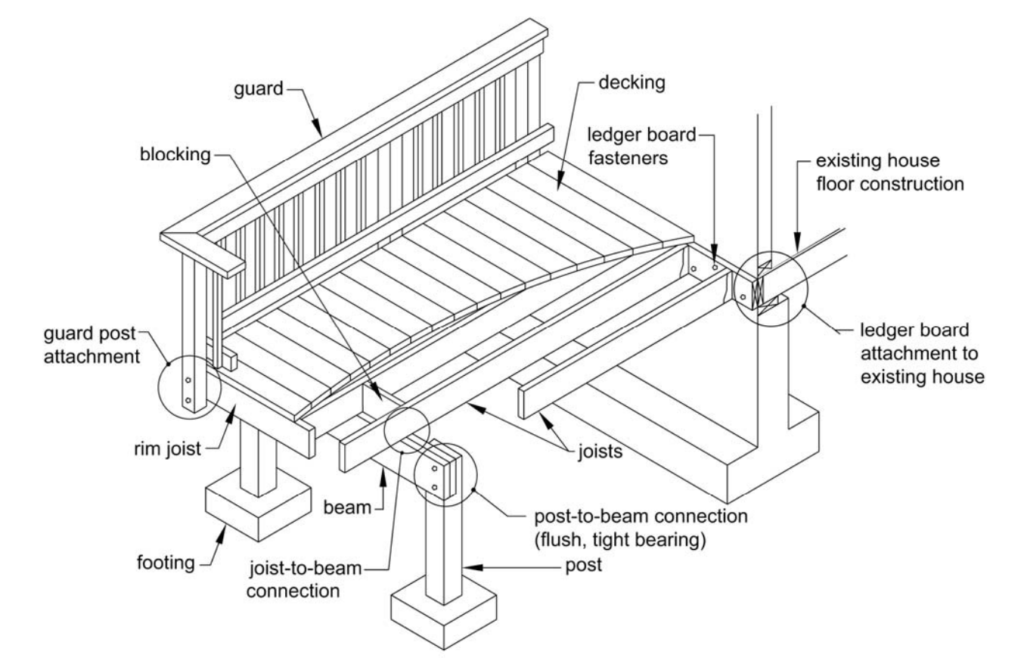 As a reminder, here are some common deck building terms:
Decking

: These are the visible surface boards on which you walk. They can be made from wood, composite materials, or even vinyl.

Joists

: These horizontal structures support the decking. They run perpendicular to the house and are anchored by beams and ledger boards.

Blocking

: Short pieces of lumber or metal bridging placed between joists to prevent them from twisting or providing additional structural strength.

Beams

: Horizontal supports that carry the load of the deck and transfer the weight to the support posts. They typically run parallel to the house and support the joists.

Ledger Board

: A board attached to the house, providing support on one end of the deck, to which the joists are attached.

Support Posts

: Vertical structures, usually made of wood or metal, that support the beams (and thus the deck's weight) and transfer it to the ground.

Footings

: Concrete bases, dug into the ground, that provide a solid foundation for the support posts.

Stairs

: The steps leading from the deck to the ground. They require

stringers

(support structures for the steps) and

treads

(the top surface of the step).

Railing

: This is the barrier around the deck's perimeter. It consists of posts, top and bottom rails, and balusters or spindles.

Balusters

or

Spindles

: These are the vertical members used between rails to provide a safety barrier and aesthetic design.

Fascia

: A board that's attached to the ends of the deck joists to give the deck a finished appearance.

Bracing

: Diagonal supports added to provide stability and prevent lateral movement.

Fasteners

: Various types of screws, nails, or clips used to secure the decking, railing, and other components.

Flashing

: A thin layer of waterproof material placed between the deck and the house, particularly where the ledger board meets the house, to prevent water intrusion.

Skirting

or

Lattice

: Decorative panels that close off the area below a deck, keeping out pests and providing a polished look.
At Outlive we offer Millboard's comprehensive decking system, which includes subframes and finishing elements, as well as decking boards.
Deck Design Principles
PURPOSE
Next, ask yourself, what is your deck's purpose? Is it a space for weekend barbecues, a quiet relaxation spot, or a dining area under the stars? Maybe all three – or maybe something a little more specific?
If your goal is to replace or transform an existing deck, think about what you like and don't like about your current outdoor living area. What do you want to get rid of, what do you want to keep, and what do you want to add to get the most out of your deck?
Take your time and write down the WHO – WHAT – WHEN – WHERE – WHY of your future deck. This will guide your design choices.
BUDGET
Then, determine your budget. This should include more than just the initial investment, but any maintenance and replacement costs your deck is likely to incur over the years.
SIZE, SHAPE & PLACE
Next, consider the dimensions. Your property's size and layout will dictate the deck's size and shape. Ensure it complements your home without overwhelming your yard. 
There are a number of free online deck design tools you can use in your planning. At this early stage however, sometimes good old fashioned pen and grid paper are all you need.
As a rule of thumb for size, think about the maximum number of people you want to be able to enjoy your deck regularly. Maybe you're creating a tranquil oasis for you and your spouse – or maybe you want it to be the place to be on summer holiday long weekends. 
Tip: Six square feet of space per person is a good guide for standing crowds. 
Also consider orientation: westward facing decks might require screening in the afternoon and evening.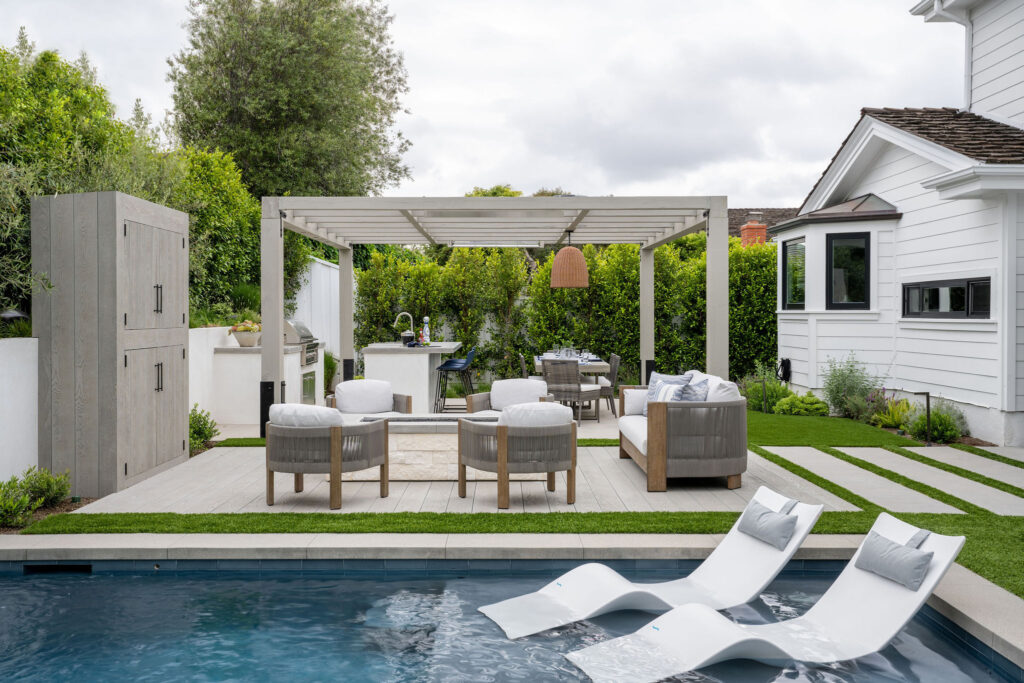 FEATURES
Lastly, keeping the previous points in mind, go ahead and dream. This is when you can start to narrow down the list of features you want to include. Here are some of our favorite features to inspire you:
Hot tubs, spas, or swimming pools

Cooking areas (grills, BBQs, sinks)

Atmospheric fireplaces or firepits

Seating (integrated or freestanding)

Lighting (decorative & functional)

Entertainment areas (speakers, screens, stages, dancefloors)

Integrated storage

Planters, plants & other decor (like water features)

Wind screens, privacy screens or trellises

Pergolas, shade covers or roofs

Outdoor heating & cooling accessories (heaters, misters)
Side Note: Material Matters
When designing a deck, material choice is paramount. Traditional options like wood have their appeal and are usually cheaper in the short term, but wood decks come with maintenance challenges. Composite materials, on the other hand, offer durability but vary in quality and aesthetics.
Standing out in the composite market, Millboard boasts a rich array of finishes, colors, and textures that convincingly replicate the nuances of real timber, without any of its drawbacks. This variety ensures that every deck design retains a unique touch.
Tip: Order some samples to get an idea of which finishes best suit your style and needs!
But it's not just about looks. Millboard excels in longevity, too – it's guaranteed by a 25 year warranty* – and it also boasts a number of unique benefits:

Once you've chosen your deck material, it's time to get down to business. Make sure you keep the following key deck design rules in mind as you sketch out your ideas.
Key Deck Design Rules
Functionality
Your deck should serve its intended purpose. Whether it's for gatherings, solitude, or a play area, the design should cater specifically to these needs. Remember, a functional deck  maximizes usage and enjoyment.
Tip: Outline your main activities and prioritize features. For example, if dining is a primary function, ensure enough space for a table and comfortable traffic flow around it.
Flow and Accessibility
A deck should blend seamlessly with its environment. Pathways should be clear and well-lit, and transitions from the deck to the garden or home should be smooth. Think of the deck as an extension, not an obstruction. Also, keep in mind the mobility & accessibility needs of current and future deck users.
Tip: Use consistent flooring materials or complementary colors to guide and direct foot traffic.
Privacy and Views
While enjoying the outdoors, maintaining privacy is crucial. Consider sightlines, understand how neighboring properties relate to yours, and if necessary, invest in privacy screens. But, don't forget to capitalize on any picturesque views your property might offer.
Tip: Strategic placement of plants or trellises can enhance privacy without blocking light or views.
Weather and Maintenance
Designing with local weather conditions in mind is vital. For instance, decks in wetter climates might benefit from certain layouts or materials. Millboard decking offers an advantage here, reducing the regular maintenance tasks often associated with traditional decking.
If you live in a hot climate however, think hard about the color of your deck. Lighter finishes will be cooler no matter what material you choose, as heat absorption is essentially a function of color.
Tip: For wood and wood composite decks in rainy climates, opt for a slightly sloped deck design to allow water runoff (about ¼ inch for every 12 feet of deck), preventing pooling. Millboard's materials, being 100% wood free, are particularly resistant to water damage and can actually live submerged.
Aesthetic Cohesion
A deck isn't an island. It should resonate with your home's architecture and the surrounding landscape. Choose colors, textures, and designs that naturally complement and elevate the entire property's appeal.
Tip: Sample deck materials in various lighting conditions – what looks great in the showroom might appear different in the golden hour at your home.
Safety
Last but certainly not least, an essential aspect of any deck is safety. Incorporate secure railings, use non-slip surfaces, and ensure the design is structurally sound. A well-designed deck should provide enduring peace of mind as much as relaxation.
Permits and Code Compliance
For those of our readers who are new to construction, this is a good time to note that a well-designed deck will be up to code, too. Building codes vary from state to state so get familiar with the regulations in your area, and if necessary, make sure to get a permit. Permits are required for most larger (+200 sq. ft.) attached decks; you'll need to apply at your local building department and factor permit costs into your budget.
Code violations go from mild, to hilarious, to terrifying (just ask reddit). Some of the most common code violations we see include: 
Improperly attached and supported decks, with insufficient load strength (minimum 50lbs per sq. ft.).

Lack of protection against wood decay in the structural elements of the deck.

(To avoid this, choose pressure treated lumber, or more durable alternative subframe elements like Millboard's

Plas-Pro

and

DuoSpan®

lines.)

Lacking or inadequate hand and guardrails.
If these requirements have got you feeling that your fun DIY deck project is turning into a nightmare, don't hesitate to contact an approved installer, builder, contractor or architect; they'll help you bring your vision to life without the worry. Our team can help you get in touch with Millboard dealers and installers in your area.
Case in point: Great Deck Design Examples
"Good design is obvious. Great design is transparent." – Joe Sparano
We hope after reading this guide you're feeling inspired and confident to start the design process for your dream deck! Keeping simplicity, functionality, safety, as well as beauty at the forefront of your mind will help ensure that your deck gives you enjoyment for years to come.
Here are some fantastic examples of well-designed decks using Millboard…
BRENTWOOD HOUSE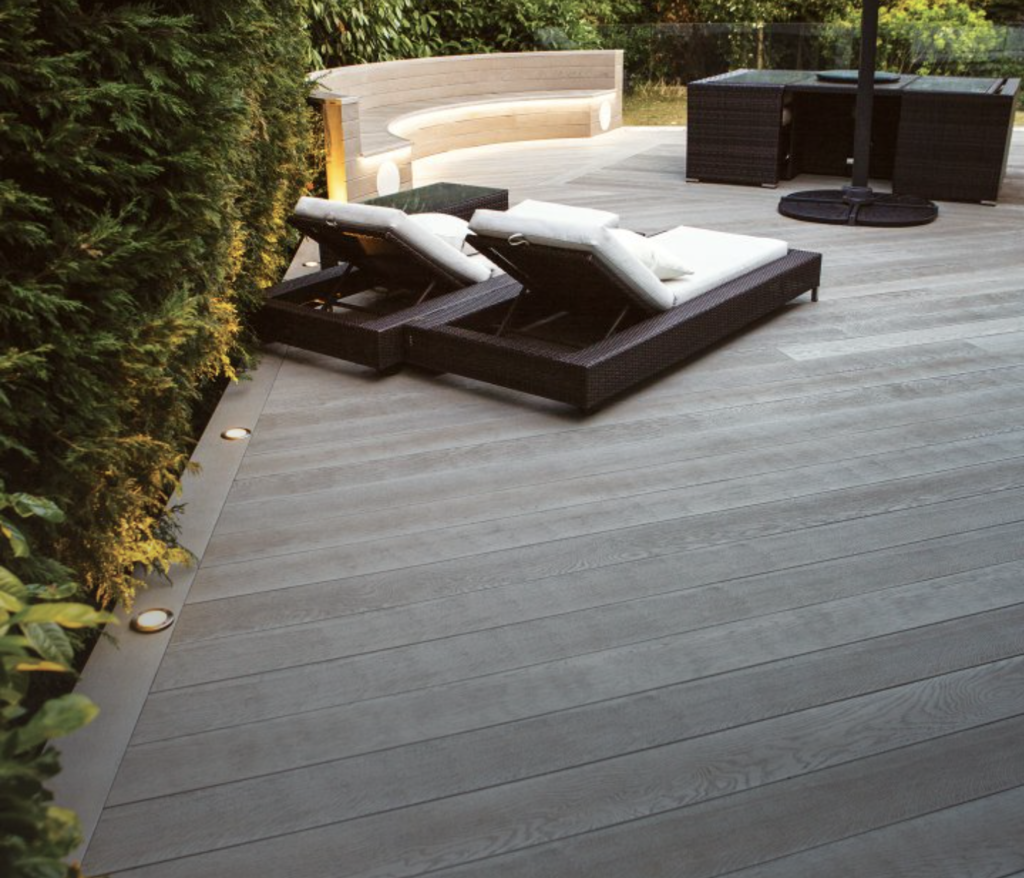 This deck is a great example of taking the functional and making it beautiful. The sleek and contemporary integrated seating uses the same finish as the Smoked Oak decking for a cohesive look, and the choice of glass railing keeps everyone safe without obscuring the view. The in-deck lighting provides an inviting atmosphere but also, importantly, better visibility for evening entertaining.
BEACHSIDE OASIS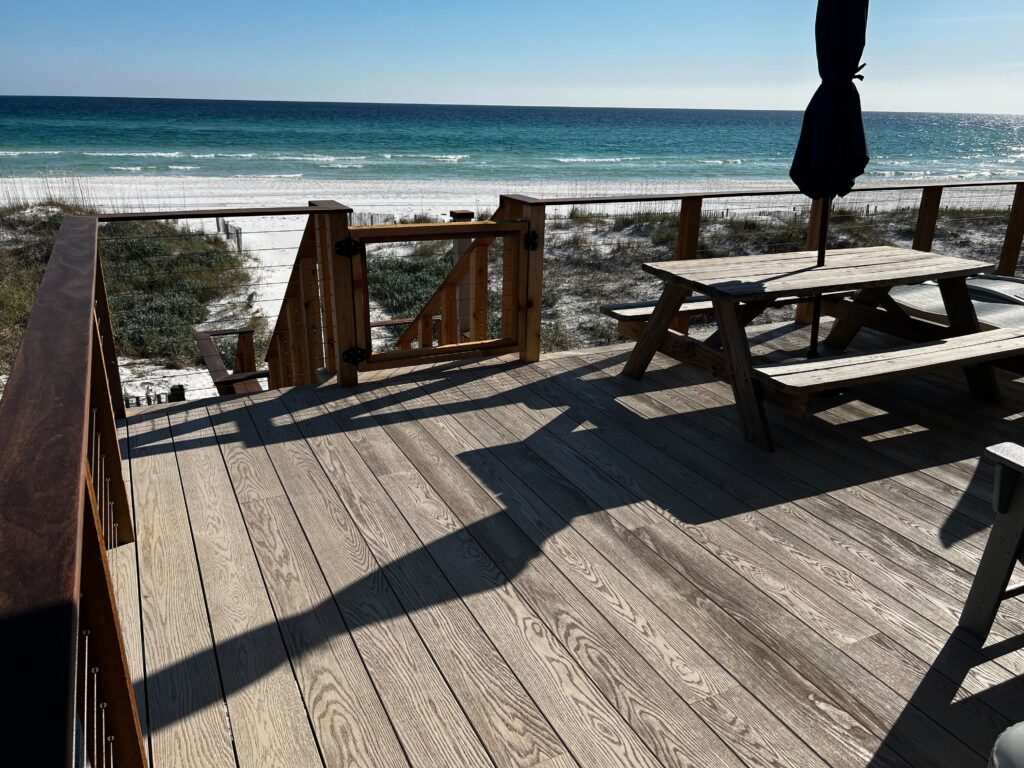 This property is a testament to the importance of material selection. The salty sea air can be really damaging to wooden structures, and having a property right on the beach means sandy feet tracking across the deck. Choosing a material that's resistant to the elements and can easily be hosed off makes for minimal maintenence. The water resistance of Millboard even allowed for this project to incorporate an outdoor shower without having to worry about rot or algae. This beachside oasis is the perfect combination of convenience and durability!
THE ENTERTAINER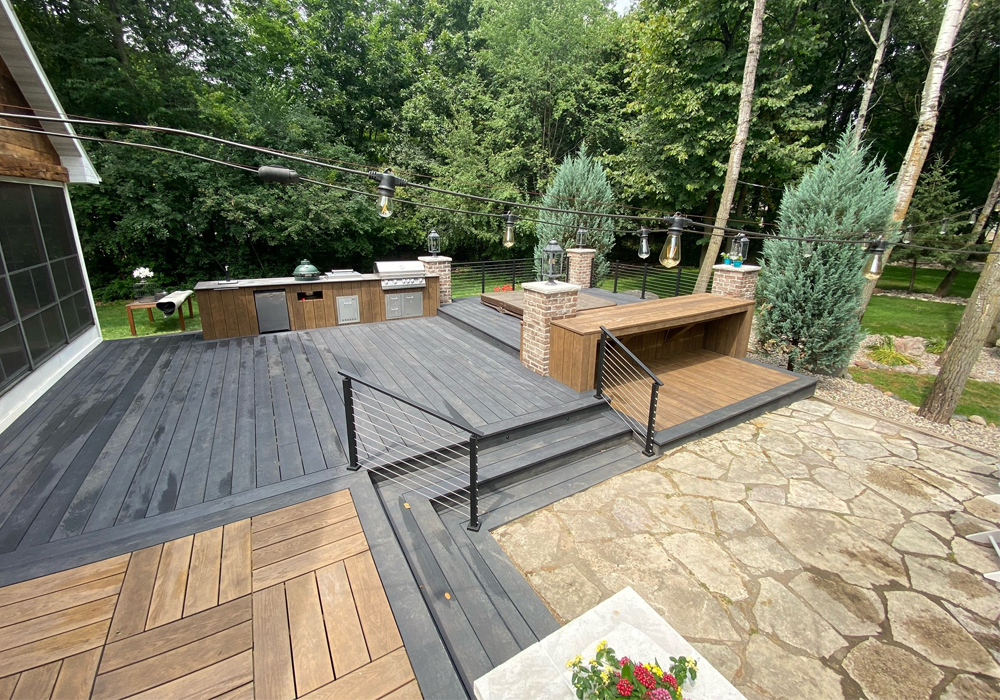 Another fabulous example, this duo-tone deck provides its owners with a number of functions: cooking and dining zones, a bar area, as well as a hot tub for relaxing, and an outdoor living room (or dancefloor – just push the chairs out of the way!). They opted for Millboard Enhanced Grain boards in antique oak and burnt cedar, which tie in perfectly with their chalet-style home and cooler climate.
Final Thoughts…
As we've seen, deck design is both a science and an art. You want to make sure your project is up to code, responds to your unique needs and preferences, and beautifully extends your home. Thoughtful planning with a nod to these deck design rules is essential to ensure you get the most out of your future deck. 
Ready to bring your outdoor space to life with the unmatched durability and timeless beauty of Millboard decking and siding? Reach out to us or an authorized dealer today to book a consultation or request product samples. Your dream deck awaits!